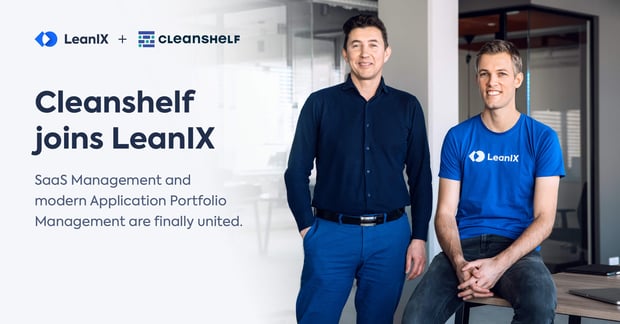 I am thrilled to announce another LeanIX milestone. Cleanshelf, a leading SaaS management provider, is joining the LeanIX family.

Cleanshelf was founded by Dusan Omercevic over four years ago, offering a platform to discover and manage SaaS environments. This technology is a perfect match for LeanIX, and as of today, we are adding Cleanshelf's 40 team members spread across San Francisco, Denver, and Ljubljana to our team. Together we will grow as one to deliver a single outstanding product experience to customers and partners.
An expanding vision
It has been a long and exciting journey for LeanIX. What started nine years ago as a bootstrapped company of two founders in Bonn, Germany has become a global operation with more than 360 employees and 400+ customers on all continents. To be honest, we are missing Antarctica as of today. Cold emailing doesn't seem to work there but we won't give up.
LeanIX will never become a complex tool used by only a select few. Our original "lean" approach to IT management has withstood the test of time — as has the value of making comprehensive overviews of the IT landscape more accessible to enterprise architects and their stakeholders. As the "Google Maps of IT," we provide high-quality and always up-to-date information for data-driven decisions.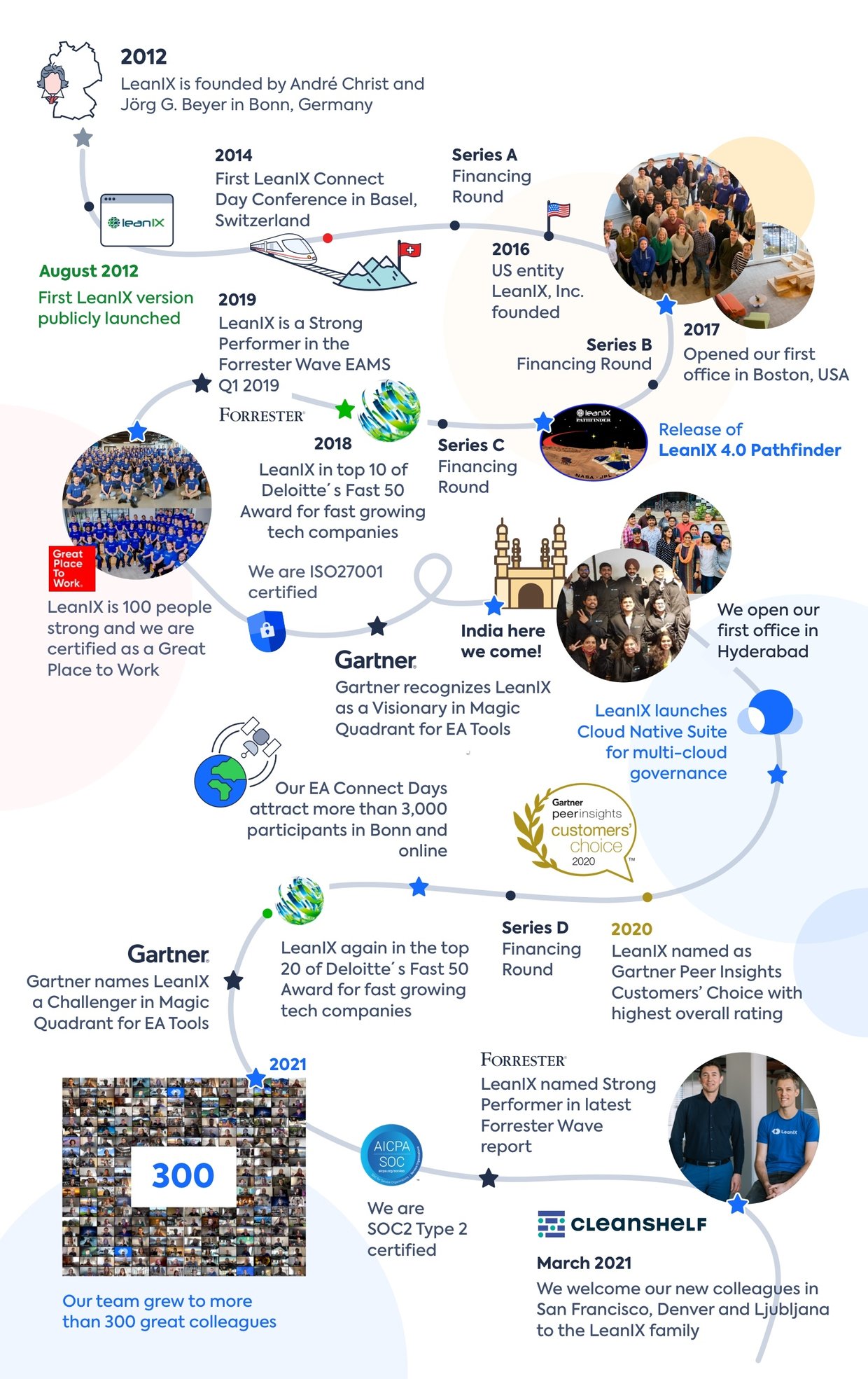 I strongly believe that the proliferation of SaaS in organizations is another inflection point in IT management. This trend dates back to the arrival of the Salesforce CRM, which forever changed how software is purchased by and sold to businesses. The SaaS market and its adoption have also increased dramatically — from five publicly listed SaaS vendors in 2012 to more than 100 publicly listed SaaS vendors in 2021. A recent Gartner I&O Leaders Survey shows that 70% of organizations are currently investing in SaaS and public cloud offerings and will continue to do.
As evidenced by the increased use of Zoom, Teams, Slack and many other solutions, the Covid-19 pandemic has accelerated SaaS adoption even more. SaaS is often purchased via credit cards in a decentralized way, making it hard for organizations to keep track of costs, security risks, and data privacy. SaaS management platforms have become essential as SaaS spend per employee and the total amount of SaaS spend within organizations continue to rise.
Cleanshelf is the single pane of glass for SaaS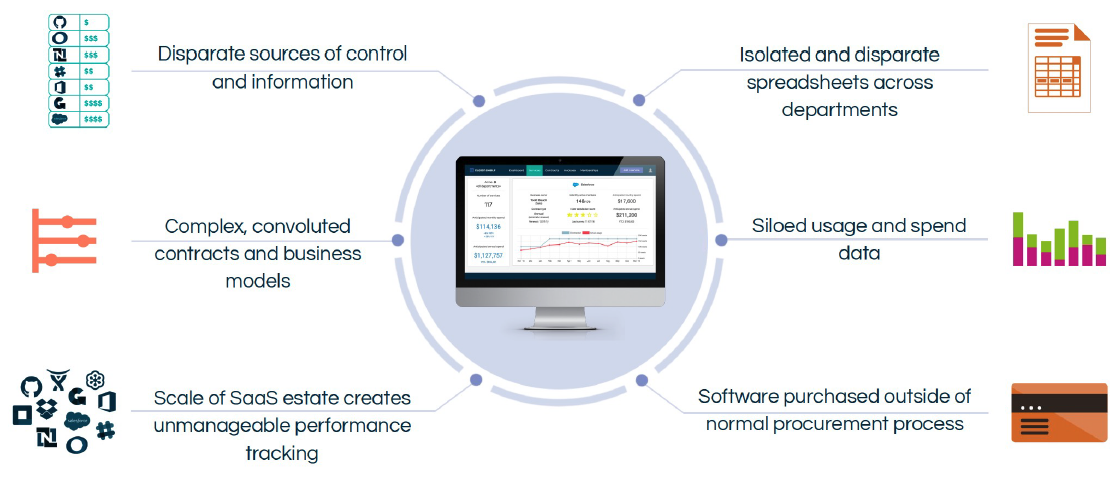 Cleanshelf technology solves this growing problem while giving its users immediate business benefits (e.g., 15% average customer savings of SaaS spend in the first year). Based on an extensive set of integrations with ERP tools, spend and contract management, identity and single sign-on (SSO) providers, Cleanshelf automatically identifies SaaS use. The Cleanshelf team has created a unique technology that combines more than three years of machine learning with its > 3000 integrations.
The discovered data is augmented with individual license information and engagement KPIs from the SaaS tools. The information enables users to optimize license usage, execute proper decisions before the renewal occurs, and identify where the tool adoption is falling behind expectations. The data is instrumental for IT security teams to determine if SaaS solutions are secured using the company's SSO and to automate regular user access reviews and user terminations.
SaaS Management with Cleanshelf and Application Portfolio Management with LeanIX are a perfect match. For large organizations, this pairing increases the potential for automation and improves the data quality of the application portfolio — an ongoing issue for traditional enterprise architecture tools with lengthy roll-out processes. Smaller and more immature organizations can use this combined toolset to efficiently manage their application portfolios through quick assessments of their SaaS footprint.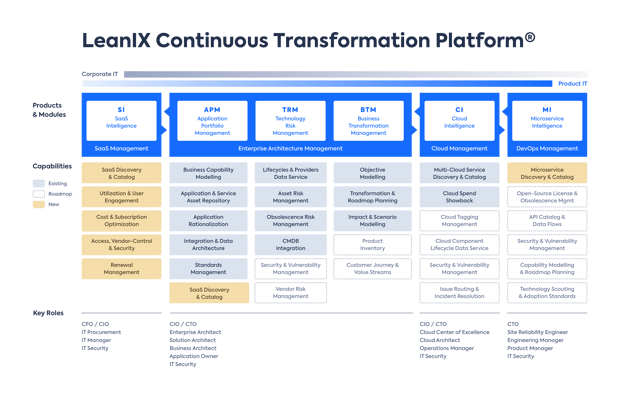 The new technology will be available May 1st as a new product, LeanIX SaaS Management Platform, which includes the following capabilities:
SaaS Discovery & Catalog
Utilization & User Engagement
Access, Vendor-Control & Security and
Renewal Management
It primarily addresses the needs of CIOs, CFOs, IT procurement teams, IT managers, and IT security teams when managing the SaaS footprint. Existing users of Cleanshelf will fully benefit from the new product and the investment into the technology and customer service provided by the combined organization.
In Q2 2021, all existing and new LeanIX customers using the APM module (new LeanIX pricing) will get SaaS Discovery & Catalog functionality with no additional costs as part of their subscriptions. Discovered SaaS applications will automatically be included in the LeanIX Inventory.
While we are celebrating this milestone at LeanIX today, it's just the beginning. Together, LeanIX and Cleanshelf will change how companies continuously transform and will never cease innovating.
I warmly welcome Dusan, the founder of Cleanshelf, and the whole Cleanshelf team to the LeanIX family. We took the photo above during our first visit to the office in Ljubljana. I expect many more photos of our joint teams to come as we achieve and celebrate new milestones in the future.