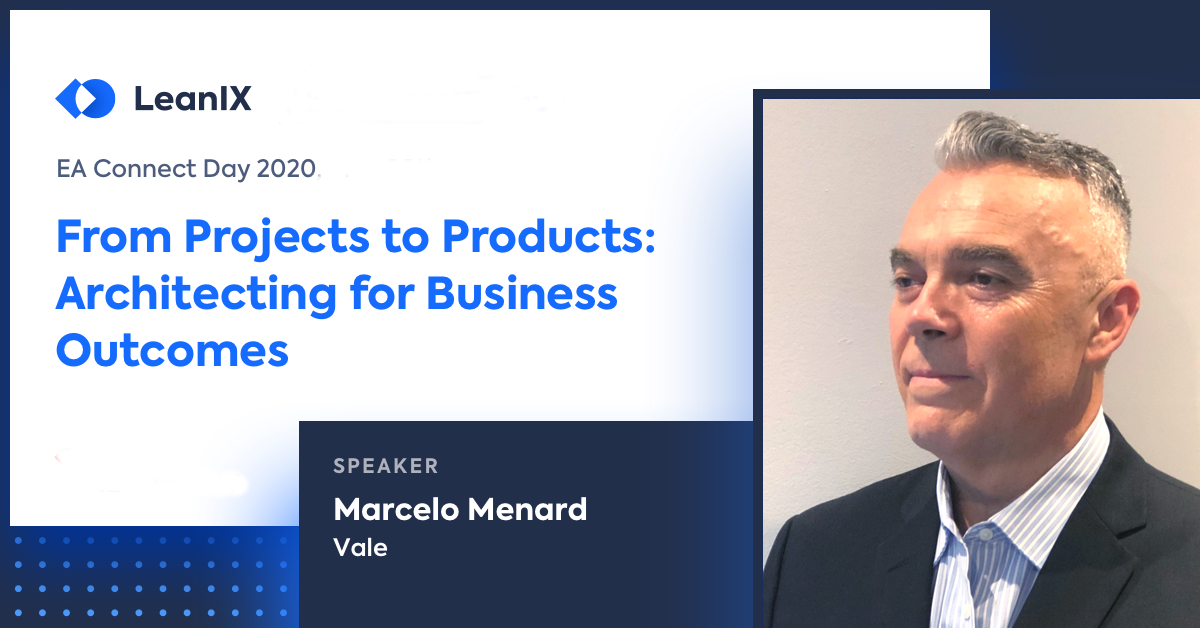 An organized and transparent IT landscape is the first step to adapting business services to shifting market demands. Marcelo Menard, Global Enterprise Architecture Manager at Vale, explained how valuable such clarity is when designing future-state architectures in his presentation on "From Projects to Products: Enabling Innovation and Transformation" at the 2020 North American edition of EA Connect Days.
A new way of conducting IT management
Menard discussed how Vale, a global mining company with multiple lines of business and locations in more than 40 countries, uses IT management to streamline innovation across an employee network consisting of 80,000 active users of applications. Taming the natural complexity of this IT landscape is what inspired Vale to launch their enterprise architecture journey 10 years ago, a project which has evolved from cataloging application data to functioning as a navigation mechanism to propel short- and long-term business strategies.
In particular, through a heavy use of business capability modeling, Vale's enterprise architecture program has managed in recent years to align IT systems to the needs of business and IT leaders and allow both user groups to accomplish the following in tandem:
Accelerate agile adoption
Conduct IT talent assessments
Manage business architecture
Facilitate digital strategy decisions
Develop future-state IT architecture
Promote standards adherence
From projects to products
Having progressed from being just "guardians" of IT standards and technology architecture, Menard reported that he and his team have extended their business-oriented EA program to accept more ownership over the delivery of Vale's solutions. To be specific, since a global mining company like Vale is uniquely comprised of many time-based IT projects and tasks, Menard capitalizes on the architectural transparency generated through LeanIX to illustrate the outcomes of these projects for all users in a more business-oriented context — all of which, he explained, to strengthen the "continuum of improving user experience" and contextualize IT's offerings.
LeanIX is very much at the center of this future-first approach to IT management and is deployed to ensure the technological maturity of its business capabilities (re-conceptualized by Vale as distinct products) via interactive relationship diagrams. Key to this optimization process is LeanIX Smart Xplore functionality and the LeanIX Data Flow diagram, the latter of which Menard hopes to improve even further with the newly-released integration to Lucidchart.
Cross-organizational innovation network
Another example offered by Menard of LeanIX's benefits is related to Vale's "innovation network", an ecosystem comprised of cross-organizational, cross-functional teams dedicated to ensuring IT employees sustain continuous value delivery and remove waste. With the backing of LeanIX, all business and IT processes are routinely rationalized throughout the following stages of this network:
Innovation Hubs for business connections, problem definitions, design thinking, collaboration
Digital Labs for experimentation, protoyping, envisioning, open innovation
Advanced Insights Center for data science, algorithms, machine learning, advanced analytics
Further, as also discussed by Menard in another presentation hosted by LeanIX, such interaction was once restricted by organizational silos, but with the introduction of architects at every line of its business, digital architecture management (numerous elements of which enabled by LeanIX), now reigns supreme at Vale and is responsible for generating data-driven repositories that provide:
A democratization of data/information
Visibility and insights
Systems of record
Simplified governance
Dynamic data-driven blueprints
Collaborative, real-time designs
---
Watch the video below to learn more about Vale's journey to success! Also, don't forget to register for your free ticket to LeanIX's EA Connect Days in Bonn, Germany. The event will be taking place both virtually and onsite, and will feature many presentations and workshops from EAs and IT thought leaders throughout industries.