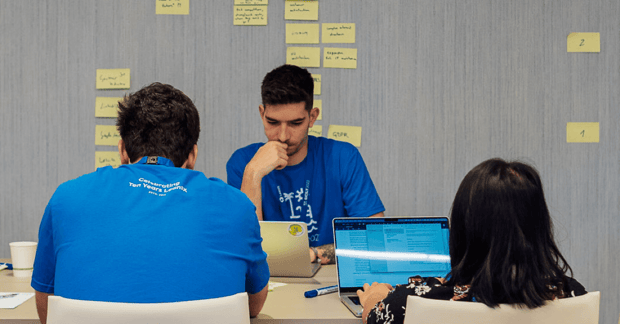 Where do many high-potential employees get their first impression of your company? From a job description for an open position that interests them. That job description can either turn candidates off or intrigue them enough to pursue things further. In fact, a recent Indeed survey found that more than half of job seekers report the quality of the job description is extremely influential on their decision about whether to apply.
Today's hiring landscape is candidate driven. Companies need to actively sell the value of working for the organization if they want to attract top talent. This is even more true for IT positions, where demand still far outweighs supply of qualified applicants.
The enterprise architect role is no exception. In fact, the competition for EAs may even be more intense than in other areas given the growing realization EAs have a critical, strategic role to play in everything from operational agility to competitive differentiation. It's why 70% of companies report they are increasing their investment in EA in 2022.
The skills and experience you want in an EA don't fit neatly into a little box because they bridge the gap between business and technology. Yes, EAs have to understand the strengths and weaknesses of various technologies, as well as how these technologies complement or, potentially, conflict with one another. But EAs also need to frame choices between different technologies and different architectures in business terms.
In other words, the EA role is both a technical role and a business role. As a result, it means the ideal candidate has to be comfortable talking to stakeholders in both camps, a capability that is already vanishingly rare.
Thanks to the importance of this strategic, mediating role, hiring the right EA is critical. The decision you make will impact the quality of your overall IT infrastructure, the ROI it delivers, and the success of ongoing collaboration between your IT team and the rest of the organization.
In this article, we'll walk through the most important parts of an EA job description and how to attract the best candidates to your company.
How to Write an Effective Job Description for the Enterprise Architect Role
Know where it falls on your org chart
IT department org structures look different from company to company, and the exact make-up of yours will impacts how you frame your enterprise architecture job description. For example: Do you already have an EA team that this person will be joining? Or is this your first EA hire? In other words, are you looking for someone to build a practice from the ground up, or are you looking for someone to fill a specific niche in an established team?
Similarly, will this person be joining an IT team that already possesses some knowledge of the value that enterprise architecture can bring, or will the candidate need to evangelize the benefits of the discipline?
The answers to these (and similar) questions will guide the way you describe the position as well as determine the must-have qualifications. If joining an established team, the qualifications will revolve around the candidate's expertise in this or that area. If building a practice, the qualifications will revolve around experience having done so in the past or having worked on a seasoned team.
Beyond the org chart, the job description must also convey the most salient aspects of the company's culture. Today's job seekers want to find a company that does more than match their qualifications and experience — they want to feel aligned with the company culture and work for a company driving positive change in the world.
A recent Glassdoor survey found some hard-to-ignore stats to this end:
Culture and values are rated the most important workplace factors for job seekers.
77% of respondents consider a company's culture before they apply for a job there.
More than half of respondents said they value company culture even over salary.
Job seekers look for clues about a company's culture and values in the job description itself. That's why it behooves organizations to be quite open about them. Of course, it doesn't have to be complicated — a company description that includes key values and priorities, plus a link to your website and further resources is enough.
The point is, don't make applicants go searching for information about the culture. They probably won't do it, meaning you could lose great talent to competitors.
Include the essential technical skills
Enterprise architecture is a highly technical role, so it's imperative that the job description clearly outline the essential technical skills required. This is the best way to weed out unqualified candidates as well as single what the candidate should be prepared to discuss during the interview and screening process.
Download Poster: Comparing IT Architecture Roles
While the necessary technical skills will vary from company to company, most EA job descriptions will include items like:
Knowledge of software development lifecycles and system architectures

The ability to model efficient architectures and evaluate relevant technologies

Familiarity with common EA frameworks (e.g., TOGAF)

Experience with data-driven report building and presentation

The ability to influence decisions at both the corporate and departmental level

Comfort working with diverse teams and employees across the organization

Experience selecting and implementing EA tools
Share company-specific expectations
If there are specific things your company expects this person to do in their EA role (i.e., work with a specific EA tool or framework, oversee a particular process, or follow a non-traditional schedule) it's smart to include these in the job description as well.
Again, your job description can and should serve as a template for the evaluation process. Anything that you want a candidate to be able to speak to should be explicitly included.
Salary — to include or not to include?
The million dollar question: Should you include salary on an enterprise architecture job description (or any job description, for that matter)? The answer is truly that there is no right answer — there's research, but no consensus.
What is clear is applicant preferences, which is, not surprisingly, to know the salary range of the potential position.
Enterprise architects specifically have a fairly wide salary range, with less experienced roles earning about $85-100K and higher-level roles (like EAs that have management responsibilities) earning well into the six-figure category.
It's a judgement call, but if you want to be sure you attract the best talent (and do it more quickly as well as avoid disparate salary expectations down the line), you likely want to include salary in the job description.
Support your EA Team with Smart Solutions
The LeanIX Enterprise Architecture platform empowers you to leverage technology, make decisions, and manage change with an outcome-driven approach. Our flexible, best-practice data model is the foundation to meet your future business challenges. It's also a tool that EAs love to work with!
Schedule a demo to begin your transformation journey today.