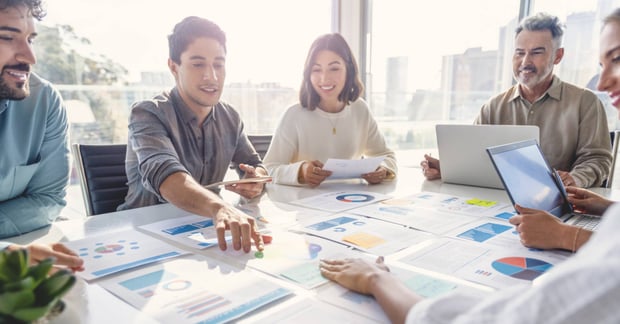 Proving the ROI of your enterprise architecture efforts raises the profile of the EA practice as a reliable driver of transformational change. It's the only effective way to earn the support of business leaders and other key stakeholders and, as a result, make EA an essential element of strategic initiatives organization-wide.
Ultimately, by connecting the dots for people, you will quickly see enterprise architecture become the solid foundation for strategic, data-driven decision making at the highest level. And when the EAM solution you choose is optimized for business users, you will soon find the data it houses guiding their decisions as well.
In the sections that follow we will walk through 5 actionable ways to demonstrate enterprise architecture ROI through reporting, collaboration, and stakeholder engagement, as well as by leveraging the tools and features available to you in LeanIX EAM.
Quick Takeaways
EA drives cost savings through streamlined IT reporting, faster project starts, and optimized application portfolios.
More than half (60%) of businesses will depend on EA to lead business transformation by 2023.
Addressing function-specific challenges across the enterprise helps EA teams gain buy-in from business leaders.
Visual tools like business capability maps and application landscape reports in LeanIX EAM make enterprise architecture ROI data digestible for non-technical audiences.
5 Ways to Demonstrate Enterprise Architecture ROI
Highlight current and potential cost savings
Emphasizing the financial benefits of any new solution or strategy — including those related to enterprise architecture — is one of the surest ways to get buy-in from company leadership. If you're adopting a new EA platform, you can use cost savings calculators (like the ROI calculator from LeanIX) to estimate what you'll save before you actually being implementing your solution.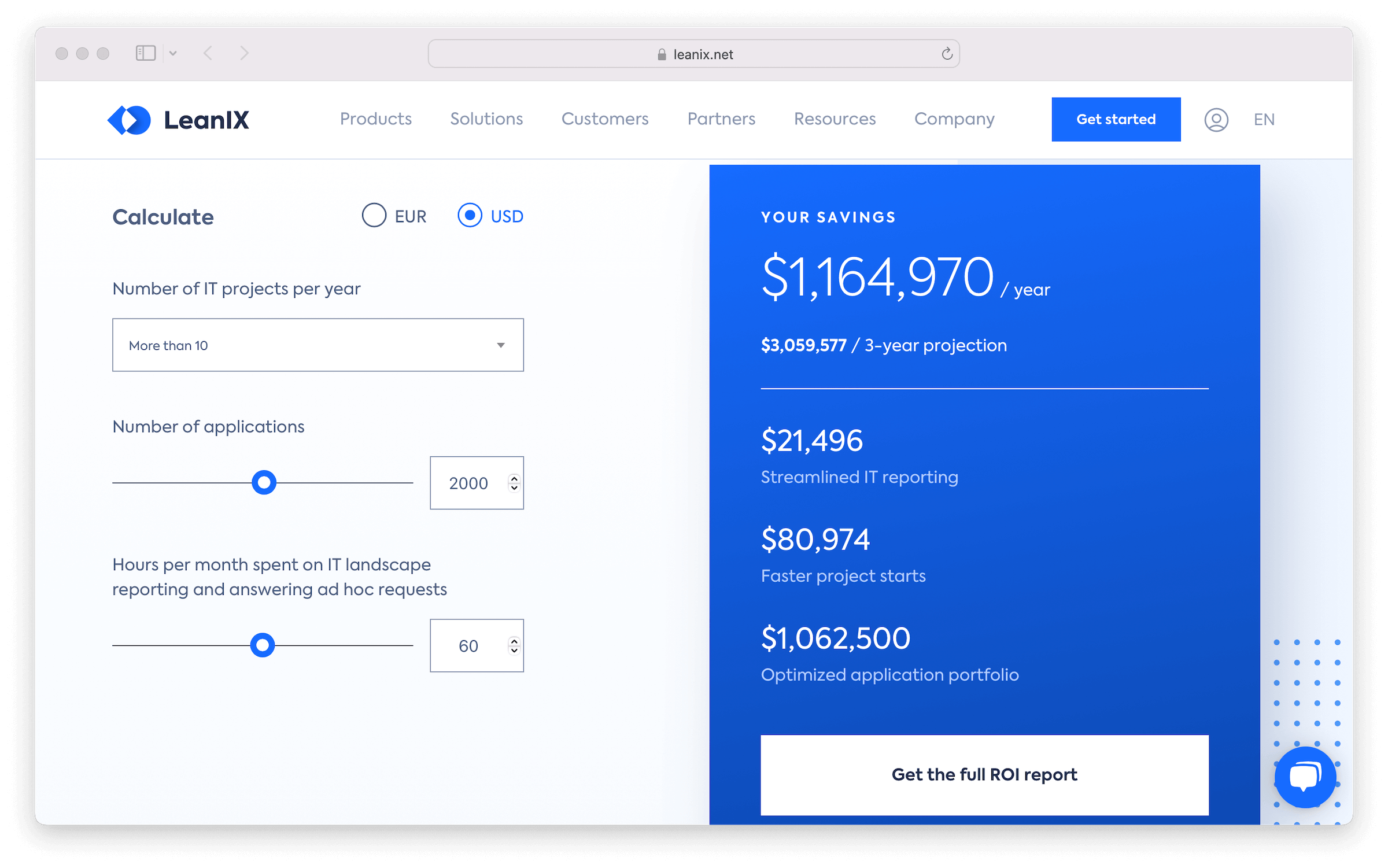 Sample results from the LeanIX EAM ROI Calculator
Specific areas where EA drives savings that you can emphasize in your business case include:
Streamlined IT reporting - EA solutions like LeanIX provide a single source of truth and a rich set of collaboration mechanisms that eliminate manual processes, enable faster data access, and reduce time spent on reporting.
Faster project starts - With a single, enterprise-level view of your IT landscape, you can reduce project prep time, simplify business decisions, and accelerate project starts.
Optimized application portfolio - By mapping out the relationship between your as-is application landscape and the business capabilities it must support, you can identify and eliminate redundant applications, saving money on licenses and support while make your entire landscape more efficient.
Connect EA solutions with specific business objectives
Gartner has long emphasized the importance of connecting enterprise architecture efforts with business value beyond technical services.
"A traditional EA approach that focuses on technical and solution architecture is no longer enough to meet the needs of today's enterprises," said Gartner Senior Director Analyst Saul Brand in a recent article. "Today's enterprise architects are responsible for designing intelligence into the business and operating models, identifying ways to help their organization use data, analytics and artificial intelligence to plan, track and manage digital business investments."
In fact, Gartner estimates that 60% of businesses will depend on enterprise architecture to lead the business' approach to digital transformation by 2023. Why? Because enterprise architects can not only envision and design a company's transformed digital infrastructure, they also possess the insights into the current state necessary to plan and execute the transformation in a systematic way.
Of course, digital transformation represents a complex and often long-term business goal. In the short term, business goals turn out to be much more simple, boiling down essentially to growth and profitability.
Connecting EA to the latter goal is fairly simple, as we have just discussed in the context of cost optimization.
On the growth front, EA's contribution comes in the form of enabling innovation, from software development (by optimizing the tech stack your engineers depend on, for example) to customer experience (by enabling personalization and customer data flows, for instance).
Address function-specific challenges
The ROI of EA can be felt at the highest levels of the organization, but it can also have an impact at the individual department level. Cultivating this impact involves both research into specific challenges different departments face and educating department heads on what EA can do.
For example, legal teams may not know that enterprise architecture has a critical role to play when it comes to navigating compliance standards and regulations. Similarly, marketing and sales teams may not realize how EA can support data management to drive analytics and personalization efforts.
Every corporate function today depends on technology to be effective. EA is all about better, more strategic uses of technology. It thus falls to EAs to evangelize their capabilities across the enterprise, seeking out often unexpected opportunities to improve operations and outcomes, department by department.
Get users across the organization on your EA solution
Getting users from across your organization on your EAM tool is no small undertaking. Doing so, however, is an essential part of gaining buy-in, driving ROI, and building the culture of continuous transformation that's critical to business success today.
Instead of restricting access to you EA tool, leaving it to a small team to gather and distribute data, it's important to allow users to get on the platform and explore how they might take advantage of its insights for themselves. This experience alone will demonstrate the value of EA and increase organizational investment in the practice.
Christian Holston, Senior Enterprise Architect for LeanIX client Southwest Airlines, recently discussed the impact of broad user engagement at the LeanIX Connect Summit in his talk: "Just write it down! Making the cultural shift to becoming more data-driven."
Watch his presentation (free registration required) to learn about how Southwest built a vibrant culture allowing them to continually yield and demonstrate enterprise architecture ROI.
Show results visually
Enterprise architecture platforms like LeanIX offer a number of features designed to help you create visual representations of EAM initiatives, making make them understandable to everyone.
Business capability maps and highly visual Application Landscape Reports (like the obsolescence risk report pictured below) are just two examples you'll find in the LeanIX platform.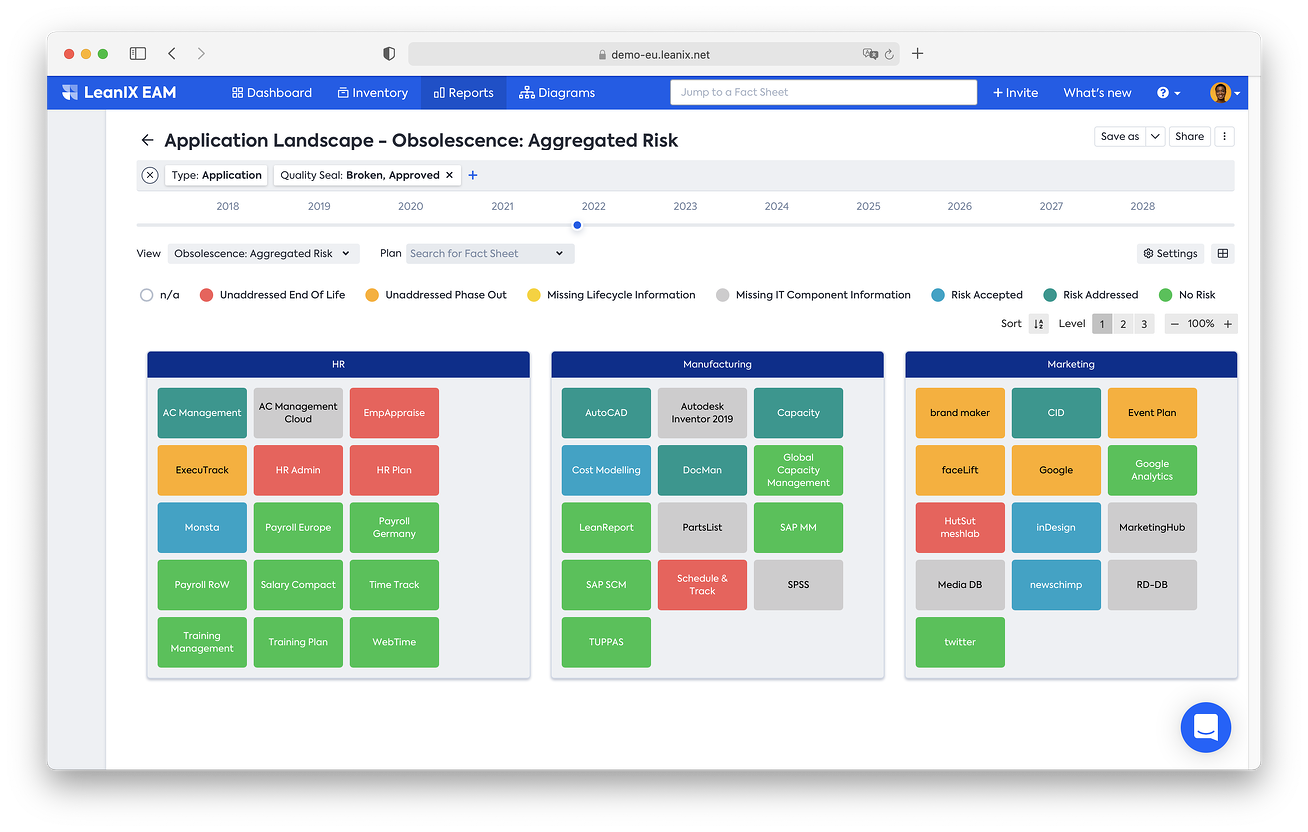 Application Landscape Report as seen in LeanIX EAM, identifying end-of-life technologies
Visual representations of enterprise architecture data make them more digestible to non-technical audiences and help everyone clearly see the ROI you deliver.
Over to You
Proving the ROI of your enterprise architecture efforts is about more than just having a great EA strategy. It requires collaboration with stakeholders from every part of the organization and connecting EA directly to business value and transformation initiatives. LeanIX is designed to help you do both.
Our platform enables you to leverage technology, make decisions, and manage change with a proven, user-centric, data-driven approach that ensures a measurable return on your investment.
Schedule a demo to begin your organization's transformation today.