Introduction
The words 'digital transformation' can be heard everywhere. Constantly mentioned in a business context, it may seem as if digital transformation is here to overthrow entire industries. At LeanIX, we view digital transformation as an important tool to redefine your business and catapult your organization swiftly into the digital age.
What exactly is digital transformation, and why is it key for enterprise architects to get involved?
What is digital transformation?
Digital transformation is defined as the profound transformation of business and organizational activities, processes, competencies, and models to fully leverage the changes and opportunities of a mix of digital technologies and their accelerating impact across society in a strategic and prioritized way, with present and future shifts in mind.
This current digital change can be compared to the invention of the printing press or of the Internet. Business models are being questioned, and technology is gaining importance for enterprises of all size. In these times, enterprises need to find new models of collaboration to be successful.
Digital transformation imposes areas of advancement in the form of challenges for organizations of every size. These new developments push enterprises to be more agile, customer-centric, innovative, efficient, and team-oriented. Big Data and Internet of Things (IoT) also drive organizations to seek more service-oriented streams of revenue. These efforts come as a swift change. This article will focus on digital transformation's impact on Enterprise Architecture.
Digital transformation is not a new idea but has been made possible with the development of particular technologies: Social, Mobile, Analytics Cloud. When successfully implemented, digital transformation can change many things about a enterprise including enterprise culture, deployment frequencies and iteration length.
Modernizing, rapidly iterating, and scaling "custom applications" holds the key to digital transformation success. Unfortunately, most current application and enterprise architecture imposes significant challenges to rapid iteration and efficient scaling.
What does digital transformation mean for enterprises?
Business models are being questioned, and technology is gaining importance for enterprises of all size. In these times, enterprises need to find new models of collaboration to be successful. The digital transformation involves everyone.
IT is moving from the periphery to the heart of enterprises, but the knowledge is still distributed. Even more, local decisions are made disregarding implications for the entire enterprise just because of a lack of transparency. A central approach to digital transformation is prone to failure. Instead, enterprises need to make sure to make the distributed knowledge available to everyone in the enterprise.
The digital transformation occurs in varying speeds. There is no "one-size-fits-all" approach. Each enterprise carries their own IT legacy systems and processes, and faces their own level of market pressure and external regulation. As industry maturity affects the path of the individual enterprise to digital excellence, successful enterprises manage to regard the transformation as an iterative process. Within this process, the business needs are addressed with different paces and strategies.
How can a digital transformation be successfully implemented?
Digital transformation is in most cases extremely complex, individual and very costly. Before any frameworks can be applied, which often don't work after all, it is first of all important to understand and then work on your own IT infrastructure as well as your business data.
Once you have determined your enterprise architecture and filled it with sufficient data, you can start to take active steps into the digital future.

Here you will find the three most important steps for a fast and successful preparation of a digital transformation:
What applications matter most for the business and how are the changing?
Talk to an enterprise architect about this question and he will answer: What is the definition of applications? What is the business? In order not to lose too much time here, find the right people in the business who can answer this question. Use their view on the IT as a starting point, and find a simple model to create transparency on this view. This is where the application portfolio management comes in extremely handy. Once you have gathered a first understanding of the business view on the IT applications, you will be able to come up with a first shot of user group and business capability classification. Add a high-level assessment of the business criticality, the functional fit and the technical fit of the application, and you get an invaluable communication instrument for both business and IT to spot improvement opportunities at a glance.
Free your head of operational issues.
You know the reality of IT landscapes. Every time you start dealing with strategic projects, an operational question distracts your attention. OS updates, urgent business support requests from an unknown group, technological emergencies or urgent projects to cut costs by removing redundancies are only a few examples that every EA knows too well. Escape the rat race by identifying these issues proactively before they can distract you. Let us look at the examples above:
OS or major database updates distract you because you don't know which applications are affected. Once you figured out for your top business applications what major technology they rely on - don't go into any detail here - you can make decisions proactively instead. Urgent requests of business support typically hit you from the blue. Again, you can take the driver seat once you have compiled your application portfolio landscape. In particular, try to get an assessment from your business, which user groups and capabilities are most important, and focus on the related problem zones.
You can deal with typical cost-cutting requests in a similar manner. All the information you require is in the application portfolio landscape. Just identify the low-hanging cost savings before somebody else does.
Know your business data. They say "data is the new oil".
When you have identified the major applications, the most urgent improvements and managed to get ahead of operational worries, it is time to focus on data and how it drives your business. Typically, this occurs at two different levels of granularity. At business level, it is of major importance to focus on the key data objects that drive the business. Typically, all you need is a set of 10-20 data objects, dependent on your domain, to get started. With such a basic set you can already answer questions:
Which applications have access to certain data and which do not? Why?
Which is my classified information, and which can be moved easily to a cloud vendor?
Where can I get the information from that my data analytics specialists should take a look at?
At a lower level, another granularity could be required:
Where do I get the service that I need, in which protocol?
Who is affected by our API change?
It cannot be reinforced too much that all that matters are the needs of your stakeholders. Identify them, focus on their business value, and they will form the coalition you urgently need.
Once the first business value is created, the level of trust by peers and management allow EAs to look further into the future. It is their task to formulate target architectures and present the ways for the enterprise to get there. However, they must keep in mind that focus on creating business value and high data quality is inevitable in order to avoid the ivory tower fallacy.
How does Enterprise Architecture does add value to your digital transformation?
An in-depth survey conducted by McKinsey with the Henley Business School on enterprise architecture management revealed that when enterprises decide to go all-in with digitization, the point-to-point connections among systems rise to almost 50%, the quality of documentation falls and services are reused less often.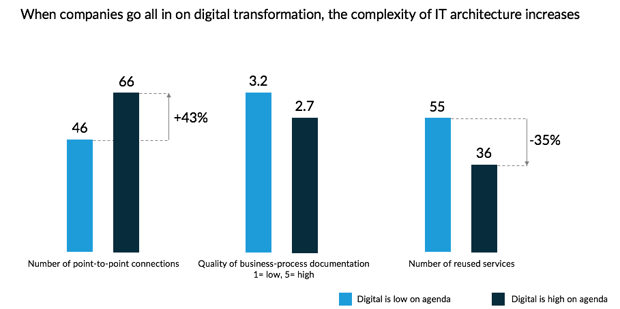 Source: Based on the Enterprise Architecture Survey, a joint survey from McKinsey and Henley Business School.
These enterprises not only experience greater complexity at the beginning of the digitization roll-out phase, but also on the long run, resulting in sometimes even with being slower to market when rolling out new products and being less capable of responding quickly to the changing customer demand.
This is where Enterprise Architecture shines. Enterprise Architects are your secret weapon ready to deal with the complexity associated with digital transformation. EAs will establish rules and processes to ensure that your IT landscape is consistent across business units, all while overseeing the entire IT architecture (including business processes). This is why these experts are able to avoid some of the earlier cited pitfalls.
Even though, many enterprises do not know this...
40% of respondents in McKinsey's EA survey said that business leaders are not aware of what the Enterprise Architecture groups does.2
This leads to the belief that many enterprise architects are not involved in the process of digital transformation. How can we address this issue?