IT Challenges in M&A
With every type of M&A comes a shared characteristic: IT challenges. Of course, there will be cultural obstacles, but having a stable IT landscape is the only way to guarantee a successful M&A.
Among some of the top IT challenges that businesses need to look out for during an M&A are:
IT integration strategy
An effective IT Integration strategy should be the dominant topic in the early stages of an M&A once the deal has gone through. However, discussions about technical compatibility should be part of the conversation during the due diligence phase as many organizations struggle to harmonize their IT systems, applications, and databases which are tied to their commercial and operational processes. It's best when both companies' IT teams are clear on a unified agenda to decide what to keep and migrate, as well as align on best practices as they move forward.
IT transparency
Enabling IT transparency is a must when attempting to integrate two or more separate organizations.
There could be duplicate or obsolete applications in the newly combined IT landscape, resulting in unnecessary spending and increased IT risks. Another example is if one organization uses a modern EA tool with real-time data, while the other has information scattered across various platforms like Excel or Visio. Collaboration between IT teams is vital when sharing the most current and relevant information, thus gaining clear visibility over the newly combined IT landscape.
The key to ensuring visibility across both organizations' landscape are business capabilities. Best practices show that establishing the common language in any post-merger integration process will provide the right level of abstraction for mapping applications. Once full transparency for all applications per business capability is achieved, decisions can be made about what to keep or sunset.
Compliance and security
The chances are that two merging organizations do not have the same levels of compliance within their processes, posing a technology risk for the business, especially if it's an international M&A. IT will encounter a variety of challenges with data management such as support for different cybersecurity standards. For instance, if a company is global, there may regional regulations such as General Data Protection Regulation (GDPR) that impact one business but not another based on their location.
Ensuring that all information is safe and secure is a critical task for any business, but especially during an M&A. If one company is more secure than the other, confidential information shared in one place can become susceptible to hackers and other unwanted audiences.
A more rigid business may need to quickly get the other merging business up to their code for documentation procedures and policy norms. Neglecting this step can result in fines and damage to the company's brand stemming from a potential data breach.
Enterprise Architecture in Mergers and Acquisitions
From a technology perspective, mergers and acquisitions are a daunting task. Every system and process used by both companies must be accounted for, analyzed, and harmonized. This process is known as post-merger integration, or PMI for short.
In the graphic below (see Figure 4), LeanIX surveyed its global customer base to determine enterprise architects' role in M&A activities. While it is clear that enterprise architecture plays a significant role in M&As, where the enterprise architect has the most impact is in PMI (89%).
Figure 4. M&A Process: Stages of EA Involvement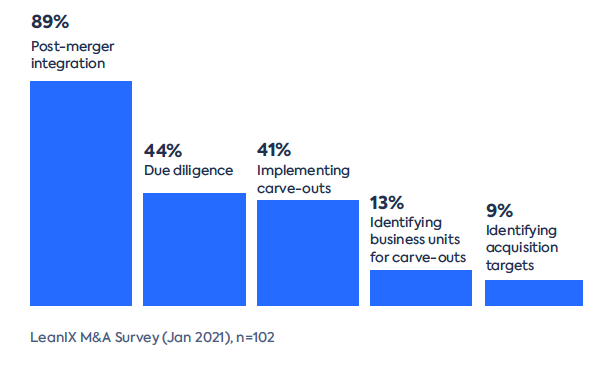 Source: LeanIX Mergers & Acquisitions Survey, January 2021
These results are no surprise given that enterprise architects sit at the intersection of business and IT. It underscores the reality that an effective enterprise architecture strategy requires EAs to be heavily involved to harmonize disparate IT landscapes and help drive the technology decisions a new, unified organization will adopt.
The Benefits of Enterprise Architecture in Post-Merger Integration
It is crucial that businesses have a stable plan to follow during post-merger integration (PMI) and be flexible when changes to the plan are made. A successful EA strategy can bring both stability and flexibility to inorganic growth by enabling the merging businesses to collaborate and assess, rationalize, and blend technology landscapes in a best-fit manner for the combined enterprise's future.
The key benefits of using a modern enterprise architecture tool in post-merger integration are:
Providing a single source of truth that all stakeholders can understand.
Assisting with documenting the entire PMI process.
Reducing IT risk by providing transparency into the IT landscape.
Accelerating synergies in the immediate aftermath of a significant capital investment.
Modeling future-state architectures to ensure the delivery of objectives.
LeanIX's customer survey data also revealed how EA use cases would be especially relevant during PMI (see Figure 5).
Figure 5. M&A Process: Assessment of Relevant EA Use Cases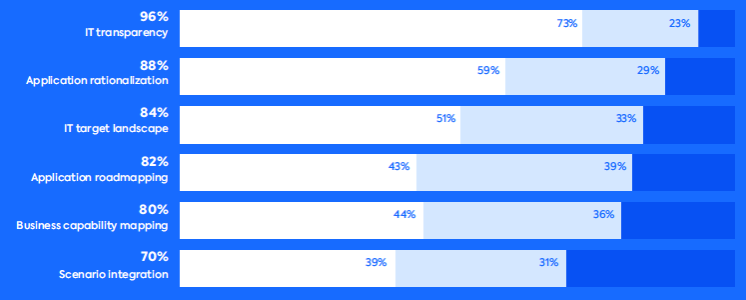 Source: LeanIX M&A Survey, January 2021, use cases (from top to bottom): n=106, n=105, n=106, n=106, n=99, n=104)
Enterprise architecture provides a transparent, single source of truth for the business capabilities and technology assets of both entities. This enables teams to establish a common language, and a set of guidelines and process standards that everyone involved should follow.
Using a modern EA tool such as LeanIX for full documentation of the steps taken during PMI would help the enterprise architect complete the process. For example, developing a joint business capability map at the start allows for teams to lay a crucial foundation for subsequent PMI activities. If an obstacle arises, IT and business leaders can look into the tool and identify what actions may have caused the roadblock.
Enterprise architecture helps reduce IT complexity and risk by providing visibility throughout the entire PMI process. This enables IT leaders to identify and address legacy and unsupported technologies as well as data interdependencies that could prove to be problematic.
Comprehensive EA helps businesses save costs through the identification and decommissioning of application redundancies. This allows EAs to set a baseline for what applications will be retained, eliminated, or inherited. These activities accelerate synergies and reduce costs in the immediate aftermath of a significant capital investment.
While LeanIX EA Suite offers enterprise architects the ability to successfully conduct PMI activities, the new LeanIX Business Transformation Management (BTM) module provides an additional layer of analysis. Enterprise architects can plan and model changes similar to the GitHub model, but for enterprise architecture. As made possible through interactive timeline reports, architectural data can be visualized from future points in time to predict how IT and business environments will form at any stage during a transformation initiative.
Watch the on-demand webinar hosted by The Open Group, where LeanIX shares all the insights from the LeanIX M&A Survey and why EAs play a significant role in M&A.
Lessons Learned from Successful Mergers & Acquisitions
E.ON
LeanIX has had the privilege of working with E. ON, one of Europe's largest utility companies, during its IT harmonization journey. A prime example of a successful M&A story is E.ON's acquisition of innogy SE, the former renewable energy division of RWE. A challenging factor in this acquisition was that E.ON and innogy's sizes were almost equal, with hundreds of legal entities each.
During the process of uncovering synergies and the rationalization potential from E.ON's new 6,000+ application landscape, the EA team had to plan integrations to support a cloud migration, adopting SaaS solutions, delivering new capabilities to the enterprise with software, and a business-wide digital transformation.
E.ON used LeanIX across its entire global operation as a central repository for every IT asset. Some of E.ON's achievements through this journey are:
The implementation of EA governance
Validating 80% of synergies
Achieved service level cost transparency
Started main modernization projects
Main Drivers for M&As in 2021 and Beyond
There are and will continue to be many new deal drivers for M&As in 2021 and years to come. According to research from J.P. Morgan, deals will be driven by changes brought to the economy during the pandemic and a decreasing amount of political uncertainty, with globally influential elections completed and a hopeful outlook on the end of COVID-19. Key drivers for M&As in 2021 are domestic consolidation, cross-regional acquisitions, and more pan-European champions.
In the technology industry, M&As have been substantially increasing, with the number of deals more than tripling over the last decade from 6% to 23%, according to J.P. Morgan. As a result, organizations will need to increase their investments in technology to stay digitally competitive.
In the future, factors changing the way deals are planned and completed are the new ways of "being" (working from home, social distancing, etc.), new opportunities in innovation, shifting industry paths (i.e., Disney shifting focus to their streaming platform Disney+ rather than theme parks), and the future of capital investment. With all these drivers affecting the process of M&As, EA support is more critical than ever. Now that stakeholders and IT professionals have to plan and complete deals and projects remotely, having a way to document the entire M&A process, reduce IT risks, accelerate synergies, and provide a single source of truth is the way to ensure success.