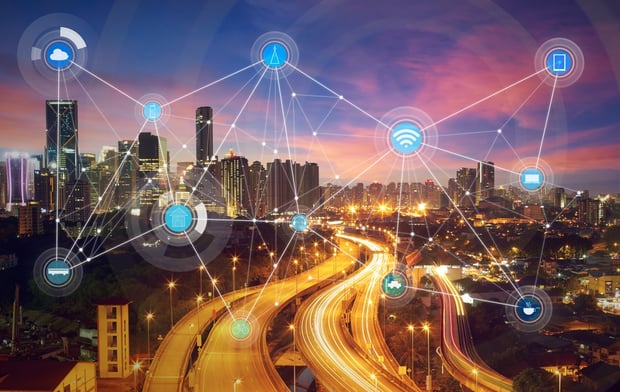 The Internet of Things (IoT) is no longer just the "next big thing". It not only dominated the conferences of the last few years, it has long arrived in our every day lives. Even if the majority of consumers still do not understand the term "IoT", most of them know examples of use, such as fitness bracelets and smart household goods, without realizing that these devices have something to do with the Internet of Things.
Some companies are not making the most of the enormous IoT potential either. However, analysts Gartner estimate that in 2016 every day 5.5 million new devices are connected to the internet. By the year 2020, 20.8 billion devices will be connected. It is high time for organizations to develop their IoT strategy - the IoT shows its huge potential especially in conjunction with big data. Every device connected to the internet delivers data about the connection between people, devices and the connections between them that can be analyzed.
Without a sound strategy the potential of the IoT will evaporate. Here, Enterprise Architecture is ideally positioned to add value to the business, as Mike Warner from Gartner says, "Enterprise Architects have a great opportunity to position themselves at the heart of digital businesses."

If the number of connected devices and the associated services increase as rapidly as predicted, Enterprise Architects are in a perfect position to make a hugely important contribution to the business. In a so-called Business Competency Center they can bring business unit and IT leaders together in a first step, according to Walker, to find out how the IoT affects their business domains and develop actionable scenarios.
Mike Walker identifies several trends making the Internet of Things particularly relevant for Enterprise Architecture, for example the shift from "thing" to "composition". While individual "things" may not be very interesting on their own, groups of connected devices can deliver specific data with almost unlimited potential. And connected technologies do not just bring devices together but link people, places and information thus creating new opportunities ("convergence"). In the "next-level business" the IoT will change existing processes by revealing better possibilities to measure and operate the organization through powerful analyses.
Seizing Opportunities, mitigating risks
Besides the many opportunities offered by the growing IoT, organizations will also have to deal with new legal, regulatory and reputational risks. Gartner advises that Enterprise Architects do not only create new ideas and scenarios but also need to assess the effects of the information generated by the Internet of Things and how it - if necessary - can be protected.
"Organizations must understand the profound impact new sources of information will have," says Mike Walker, "Enterprise Architects are best positioned to discuss and enable the most lucrative opportunities in partnership with business unit and IT leaders. At the same time, they must work with chief data officers and security officers to structure this data in a way that mitigates the worst risks of pursuing these opportunities."