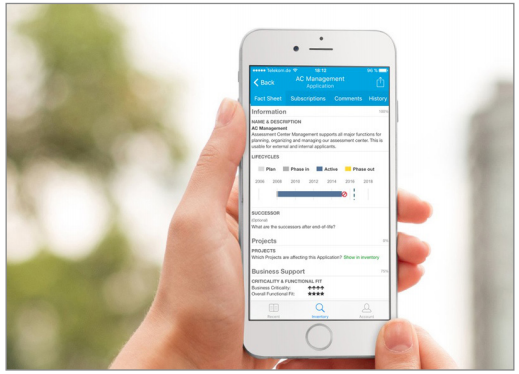 In our fourth blog in our 6 blog series about "How to succeed at Enterprise Architecture", we will be talking today about ensuring the success of EA... and in the meanwhile, keeping everyone happy in the process.
Remember that you can always download our free EA Success Kit to get an indepth view to this topic here.
Keep the data quality up
Make sure you keep your users engaged, so they will maintain the data in your EA inventory. You could consider doing regular surveys to keep the data quality up or use a quality check mechanism that prompts application owners to check the correctness of the information at regular intervals.
Focus on data that creates value and helps you with your use cases. Integrate automated data sources where it makes sense and make sure your EA repository becomes a trusted and reliable information source that is the basis for decisions.
Make data available, get everyone involved
Have you thought about making key reports available on your intranet? Agile businesses rely on open access to information, make sure everyone who needs IT data can easily access it. Use your LeanIX iPhone app to demonstrate the value of having EA data always on hand, pull out your mobile at all times.
Use your data to help others understand complexity, business priorities and budgets. Do not limit involvement to the IT department. Engage the whole organization and keep the conversation going. Invite more people across departments to your EA platform to keep them informed. Technology decisions influence the whole company, so it is important to get people on board. Make sure everyone understands that digitization is not just an IT issue but will affect every aspect of the business.
Speak in understandable and easy terms
It is easy to slip into jargon when talking about EA. But while EA is not an easy concept to grasp, using vocabulary that people do not understand makes it even worse. Adjust your message to the target audience; for example speak of quicker times to market with the marketing department.
Help teams solve real problems
Make sure to provide fast and real benefits to win allies. For example, assist the team that executes the acquisition of a new company by providing them with information about the future IT landscape. Do not get caught up in complex models that will not mean anything to anyone but you, but focus on tangible benefits.
Gradually integrate EA into your company's processes
Initially it makes sense to focus on only a few areas and use cases. But over time you should tie EA into all of your company's processes. Capture all responsibilities from the business and technical side and introduce policies that include providing all IT related information before a project is approved.
Do not forget that establishing a successful EA program needs time and will go through stages. But once you have demonstrated first successes you will be able to use EA more actively rather than just reacting to requirements. Eventually your EA will be so well established that you can focus more on identifying opportunities and disruptions and thus drive business transformation and innovation.