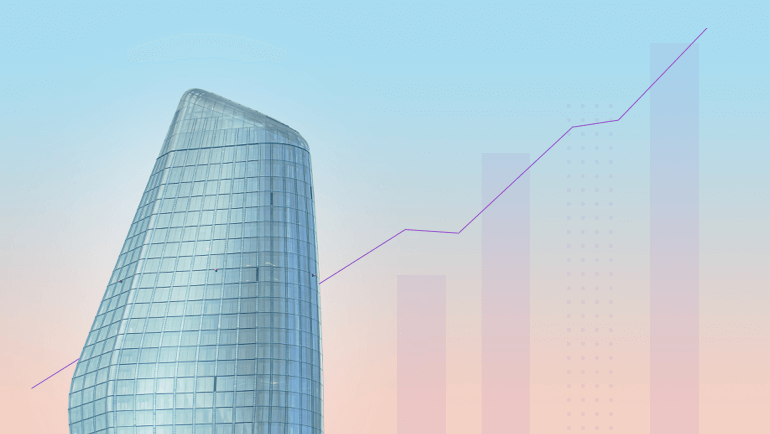 Calculating the return on investment for implementing a software tool, or any application for that matter, can be a difficult exercise for enterprise architects. EAs haven't had a way to easily quantify the value behind an enterprise architecture program which diminished the incentives for enterprises to invest and nurture an EA program.
But this has all changed.
Forrester Consulting recently published the The Total Economic Impact™ of the LeanIX Enterprise Architecture Suite report, which quantifies the cost savings and business value enabled by our LeanIX tool. The study is based on the aggregated benefits of using the product based on a hypothetical composite enterprise composed of four existing LeanIX customers representing industries including consumer retail, robotics manufacturing, fashion eCommerce, and banking and financial services.
Forrester Consulting's TEI framework and methodology identifies the cost, benefit, flexibility and risk factors that might affect senior management and business stakeholders' decision for implementing an EA tool. The company evaluates LeanIX's impact by gathering data that includes customer interviews, building a composite organization based on representative customers, financial model framework and case studies.
Challenges for enterprise architects
The report critically reviews the enterprise architectural challenges faced by organizations that lead to specific solution requirements. An overview of these challenges, solution requirements and LeanIX benefits is listed in the table below.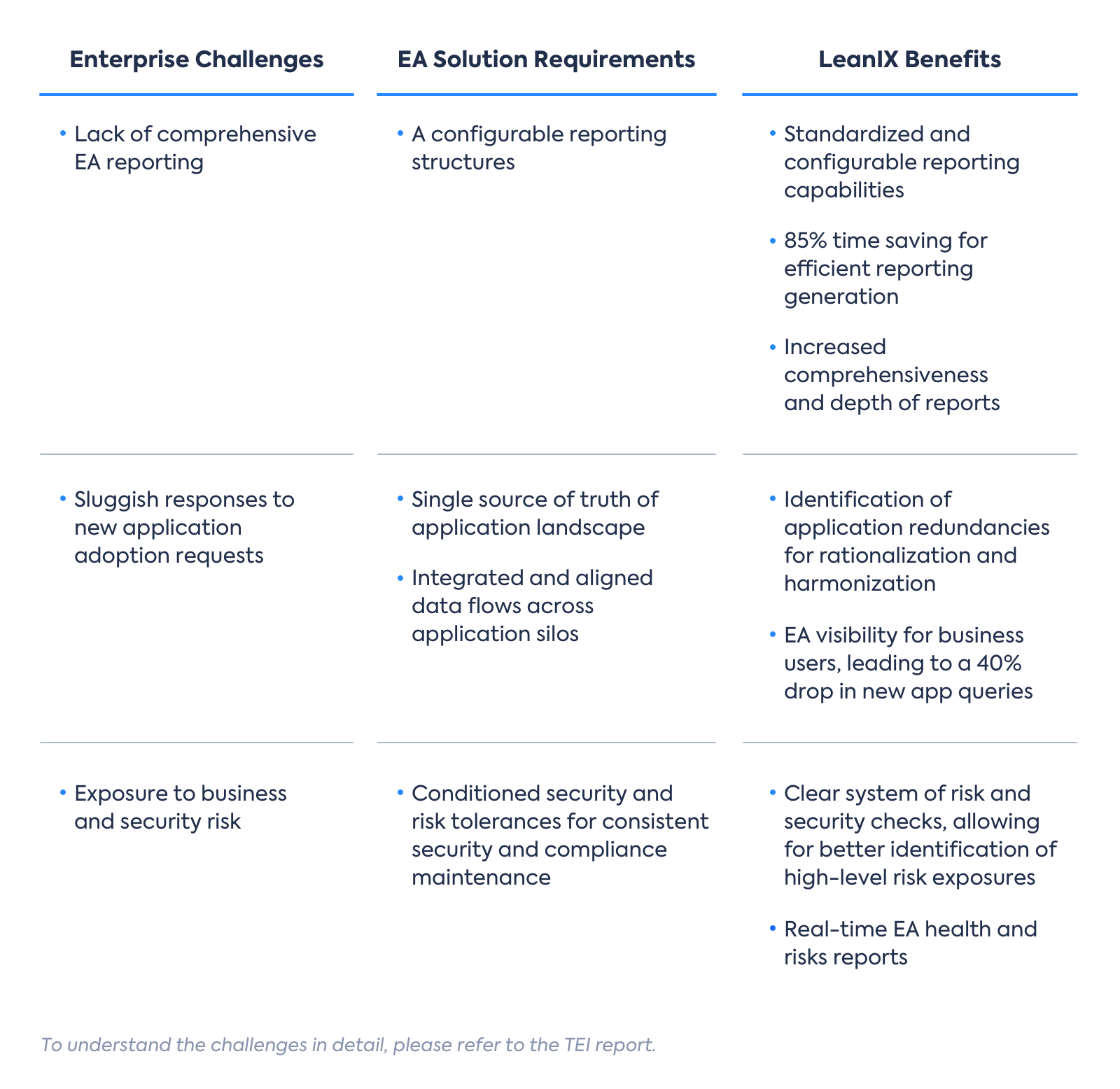 TEI benefits
Our LeanIX Enterprise Architecture Suite makes it efficient for enterprises to manage, optimize and report on their IT landscape. The net result is the significant savings on IT costs across various dimensions outweighing investment by a large proportion. Here's some of the key highlights of the ROI and savings below.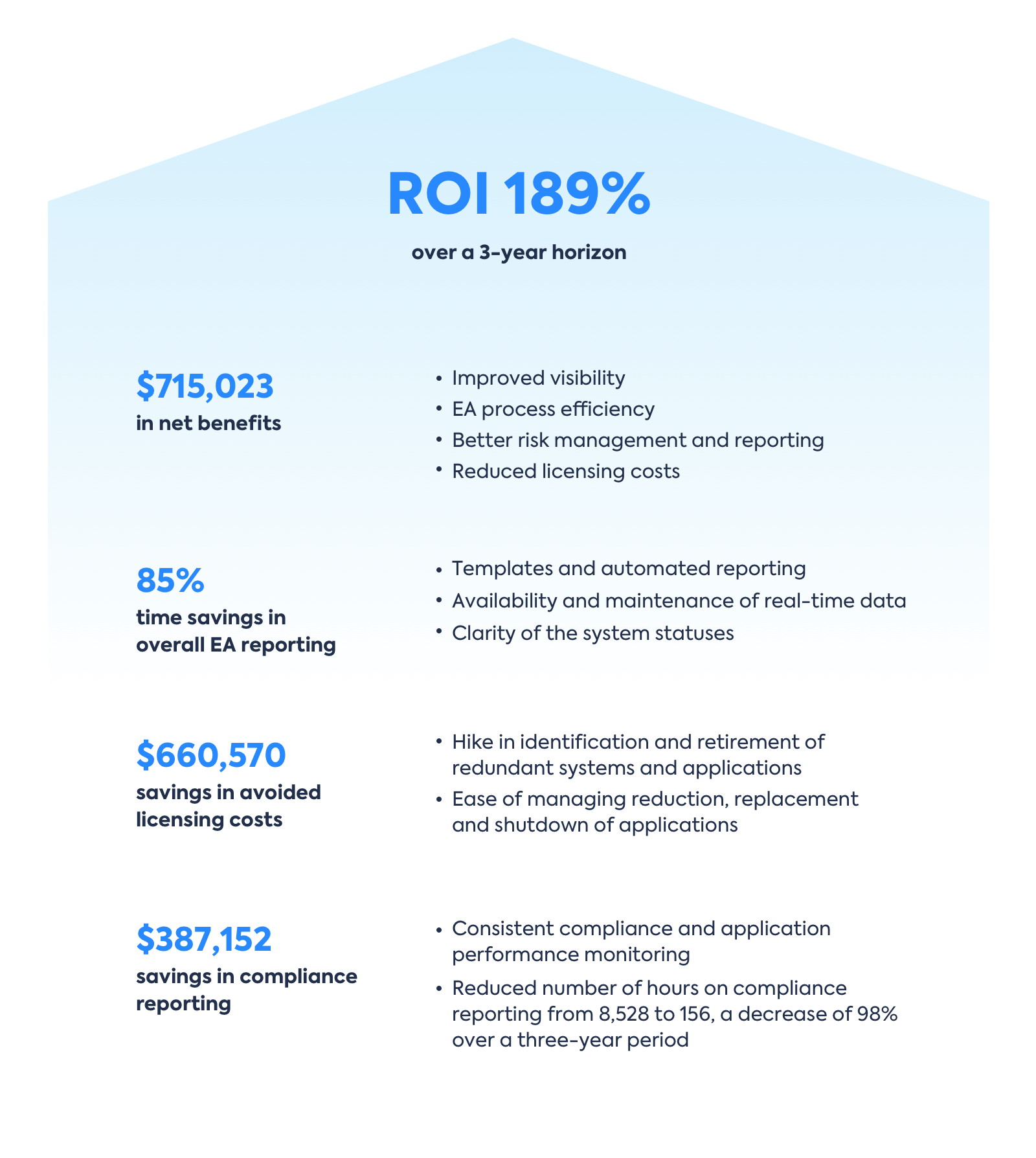 Forrester Consulting used the above three-year cumulative benefits and adjusted their net present value with a standard discount rate of 10% and applied necessary risk adjustments. With EA considered a strategic investment in which the return grows over time, benefits emerge as the EA practice matures. The TEI study calculated the ROI as seen in the figure below.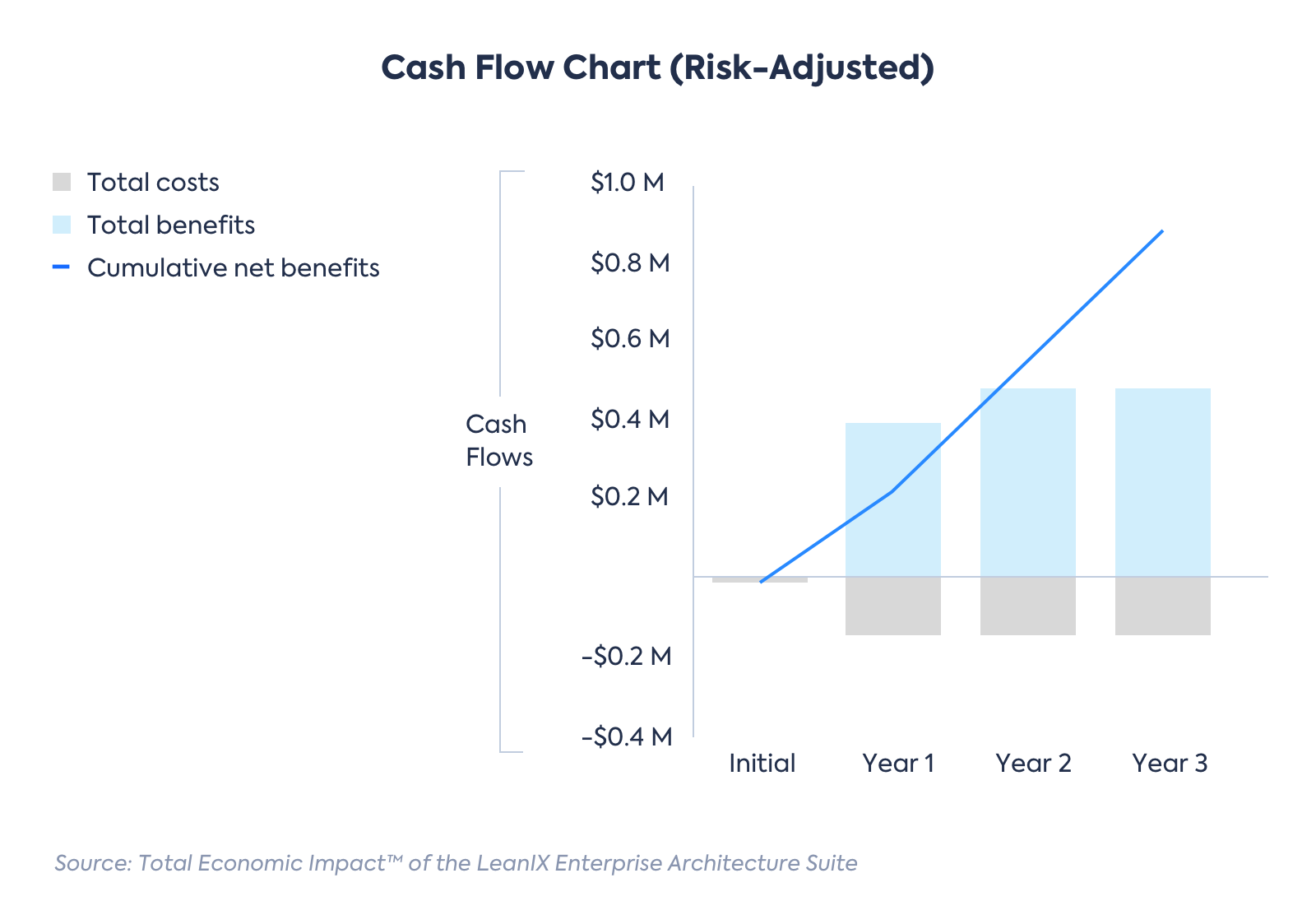 Although the TEI analysis was carried out on a composite organization, the methodology and approach of their analysis can be used as a benchmark and guide for making EA investment decisions for enterprises across industries.
Summary
With the report clearly showing how using the LeanIX Enterprise Architecture Suite can benefit from a strategic long-term investment, EAs can easily communicate the value to all stakeholders in the business.
To learn more about the Total Economic Impact of the LeanIX Enterprise Architecture Suite report, join us for a webinar on March 18, 2020 at 5:00pm CET/11:00 am EDT. You can also set up time for a free LeanIX EAS demo here.