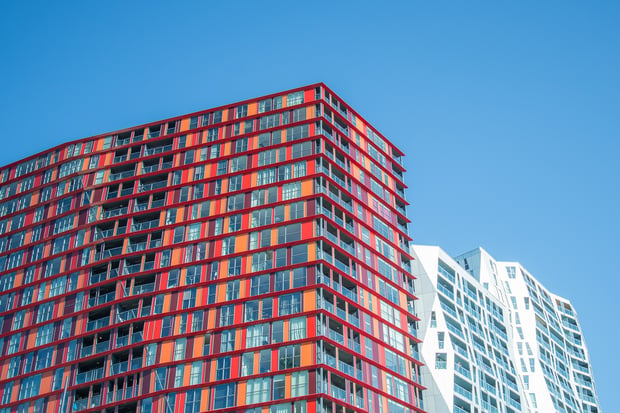 Joyful descriptions of digital futures are rare these days. For every motivational article from McKinsey on evolving from "disrupted" to "disruptor", the institute now seems obliged to publish a fully-rationalized version to account for the 86% of business executives whose digital transformations are occurring below expectations.
The main problem, as is often concluded in such reports, is that companies set digitalization targets that aren't proportionate to their present capabilities and most pressing operational needs. Even the most Agile of organizations are required to pace themselves when launching enterprise-wide transformations, and if letting market forces wholly dictate what to upgrade in order to stay relevant, a business will inevitably become overstretched. As such, enterprises must perform highly customized evaluations to shape their new digital states in ways that use business-driven technology innovations to expand upon what they do uniquely well—a process entailing thorough self-analysis and calculated trade-offs (ones either permanent or just resource-specific).
Read here: Atlassian CIO Archana Rao's insights on how to fuel business growth with EA
It's all part of mature digital transformation management, and according to MIT's Sloan School of Management, those with it have a 26% advantage over their industry peers. These digital leaders not only tailor bold yet balanced strategies on how to make business-driven technology innovations relevant in their specific environments, they also have what it takes to monitor the transformations thereafter. But perhaps most importantly, by modifying their organization with adaptable designs, they recognize that they are laying the groundwork to perpetually innovate with ease.
So, for concrete techniques on how to gain control over digitalization initiatives with data-driven accuracy and create a change roadmap perfectly aligned to what's best for your company, today's blog post will highlight how LeanIX augments the key steps of planning, monitoring, and adapting digital transformation management.
LeanIX offers businesses across industries a platform to identify weaknesses in their IT landscapes while simultaneously providing them ways to execute and manage improvements thereafter. It's the first step of determining the scope of any change, and it all begins with a simplified way of analyzing the complex interdependencies that exist between IT applications.
Read here: See how IT and business go together and get a complete overview of your business capability landscape
In particular, by starting from a variety of automated reports and metrics, each capable of being configured to show the functional and technical fit of applications throughout an IT portfolio in relation to the operational objectives they support, the priority, and corresponding complexity of necessary upgrades can be established.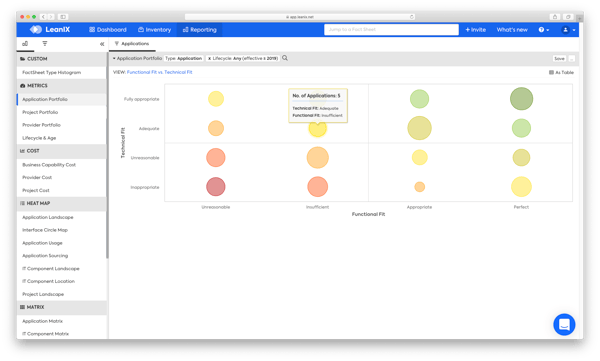 Image 1: A LeanIX Application Portfolio Report showing the proportion of technically/functionally fit applications.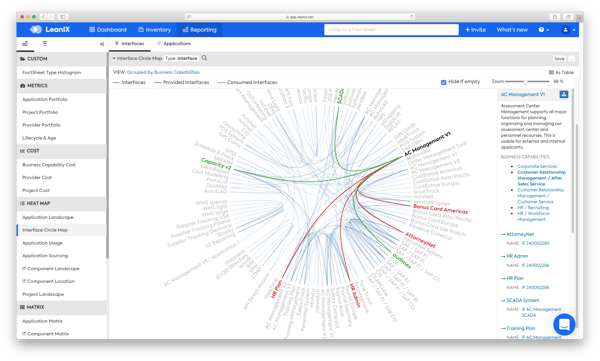 Image 2: A LeanIX Interface Circle Map with all "Interfaces", "Provided Interfaces" and "Consumed Interfaces" grouped according to Business to Capabilities.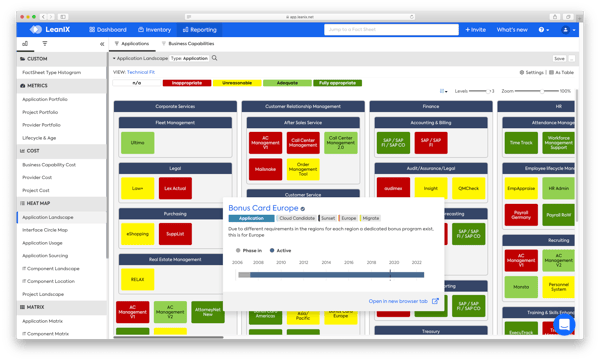 Image 3: A LeanIX Application Landscape Report showing the Technical Fit of applications throughout an IT portfolio according to the varying Business Criticality.
Following a preliminary analysis, Enterprise Architects can monitor the progress of any modernization strategy chosen by using interactive roadmap reports dedicated to tracking the status of changing IT applications, IT components and entire IT projects altogether.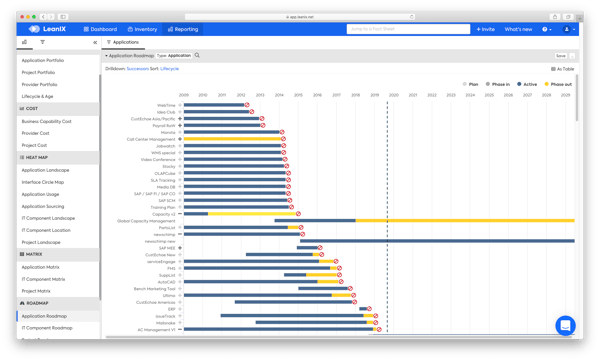 Image 4: A LeanIX Application Roadmap showing the lifecycles of IT applications and certain planned successors. Similar dedicated reports exist for IT components and IT projects.
And perhaps most importantly, whatever adjustments made to IT entities get reflected, in real-time, inside the LeanIX master repository to allow stakeholders an up-to-date understanding of how their operations are evolving—and whether or not their daily work will be impacted.
2. Implementing the right technology
The Catch-22 about digitalization is that even though it's a necessity for developing competitive new business capabilities, it can't be accomplished without becoming somewhat dependent on external technology vendors. As a result, enterprises choosing to pin their operations on externally-based technologies are forced to accept many risks—the most notable of which is technology obsolescence, a topic LeanIX co-founder and CEO André Christ makes specific mention of in a contributing article for IoT Agenda.
Said Christ: "Technology obsolescence can be one of the biggest factors that leave [an] organization exposed to hackers and outside threats. Unfortunately, many companies do not know the true lifecycle of their technology and software, and fail to run updates which lead to risk. Many enterprises run on complex, legacy technology, and applications and ignore the risks of end-of-life technology."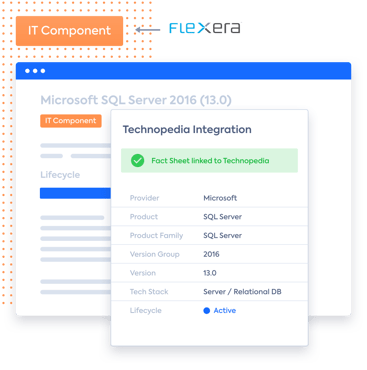 For this reason, LeanIX can be integrated right with Flexera's Technopedia database—the most complete and authoritative collection of IT data worldwide—for automated updates on service lifecycles to help prevent risks arising from end-of-life IT assets. Further, in the context of evaluating new technologies, insights from Technopedia (as in roughly 50 million regularly updated data points!) can be used to aid stakeholders during qualitative evaluations run via collaborative LeanIX outreach mechanisms like the "Survey" and various other IT Application Technical/Function Fit rating systems.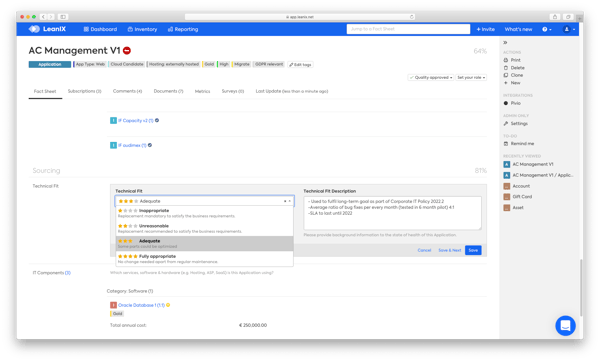 Image 5: An example of the Technical Fit grading mechanism embedded to each LeanIX Fact Sheet.
3. Sustaining business-driven technology innovation
Although an integration to Technopedia adds a reinforced layer of data accuracy to IT portfolios, Enterprise Architects must still conduct highly routinized maintenance activities of IT landscapes and schedules for themselves when to execute changes on low-performing technologies—an
exceedingly difficult task as IT landscapes grow at accelerated rates. However, since prevailing approaches to reviewing data (e.g., manual, ad-hoc, Excel-based) become increasingly ineffective in such environments, LeanIX supports a distributed, or "democratized", approach to Enterprise Architecture wherein data maintenance is dispersed to all stakeholders. And of course, this process is secured by fail-safe accountability measures.
Here's just one way it works.
Any LeanIX user can be assigned varying degrees of ownership over the upkeep of "Fact Sheets"— the individual repositories used to document information regarding architectural objects—to receive maintenance updates on applications. These notifications are sent automatically whenever a Fact Sheet's "Quality Seal" breaks or goes beyond its scheduled review date. Moreover, if someone not responsible to the Fact Sheet changes an element, the Quality Seal will break and release an alert. These notification emails can be aggregated if required, and all events connected to a Fact Sheet are saved to an audit log.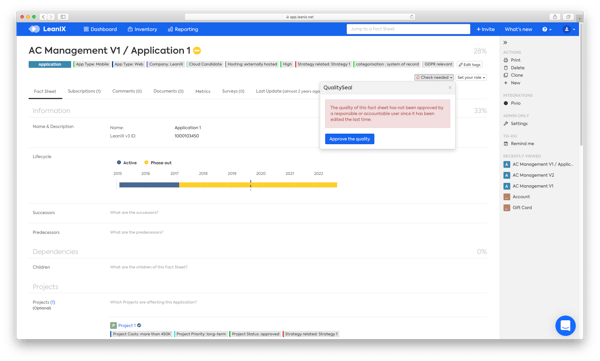 Image 6: A look at a LeanIX "Quality Seal", an automated way to co-ordinate timely reviews of IT applications with diverse stakeholders.
Further Reading
For your interest, here are some resources to help put everything we've discussed in this post into practice:
1. "How to start TOGAF with an Enterprise Architecture Tool"
2. "The Definitive Guide to Business Capabilities"
3. "Target Architecture with LeanIX"
4. "Starting Conversations with Collaborative Enterprise Architecture: Data Collection and IT Inventorying With LeanIX"
And as always, if you'd like to reach out for a free and personalized demonstration of LeanIX, just let us know.
LeanIX offers a Software-as-a-Service (SaaS) for Enterprise Architecture (EA) that enables organizations to make faster, data-driven decisions for their IT landscape. More than 180 leading brands worldwide such as DHL, Merck, Vodafone, and Zalando use the innovative tool. Users of LeanIX gain insights on how to organize and leverage their IT landscape to increase competitiveness and innovation going forward. LeanIX addresses the common enterprise predicament that information regarding IT landscapes is missing, outdated, or difficult to analyze. LeanIX's central office is in Bonn, Germany.